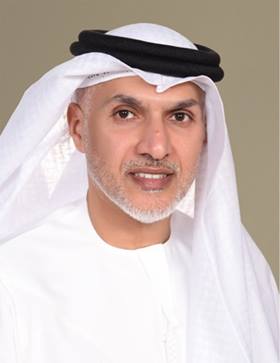 Nasser Humaid Obaid Al Nuaimi
Deputy Director General of Emergencies, Crises & Disasters Management Center - Abu Dhabi
Great achievements begin with visions of great leaders. What we see today in the UAE is the fruit of the seeds sown by our late leader H.H Sheikh Zayed Bin Sultan Al Nahyan, May Allah rest his soul.
He said, " We acted and so did others around us, however, our vision to imagine the future made the difference". The aspiration of the UAE is also a by-product of H.H Sheikh Mohammed Bin Rashid vision when he said, " I and my people love the first place". Moreover, the global love and admiration of the UAE government has been a result of H.H Sheikh Mohammed Bin Zayed vision, the one known as the heart of the nation and the architect of its policies. It is needless to say that his famous saying when COVID19 pandemic rocked the world "Do Not be Concerned" has become the basis for the highly appreciated actions of the front-line warriors combating the pandemic. We cannot also disregard the role played by H.H Sheikh Khalid Bin Mohammed Bin Zayed – particularly in Abu Dhabi – with his on-site support to all inspiring projects. Everyone could feel this during his visit to Abu Dhabi Emergencies, crises and Disasters Center with greater expectations. All these visions formed the guiding light that illuminates our path to do whatever it takes to put the UAE in the place it really deserves across all domains.
Abu Dhabi Emergencies, crises and Disasters Center was established by virtue of Law No. 22 of 2019 which paved the way to an exceptional journey that encompass structured efforts and inspiring planning to create a better future for Abu Dhabi in line with our dreams stemming from our firm belief in the importance of enhancing readiness to manage incidents across all government and private sectors, as well as, fostering experiences and transforming knowledge and lessons learnt in two-way channel.
All the above mentioned shall definitely enhance progress, fruitful collaborative work and constructive cooperation which shall eventually lead to a robust vision to make Abu Dhabi as a role model in the field of crises and disaster management. This shall be our own compass in our journey to this goal with both transparency and credibility so as to be always and forever the leading excellent center for incident management.
Finally, and on behalf of my colleagues at Abu Dhabi Emergencies, crises and Disasters Center, I would love to extend my sincere thanks and appreciation to H.H Sheikh Khalifa Bin Zayed Al Nahyan, President of the UAE and ruler of Abu Dhabi, his Crown Prince and our government for the inspiring visions and their rentless efforts to advance development. I would also love to extend my thanks to the Commander –in-Chief of Abu Dhabi Police and all ADP staff for the constructive and continuous support for our center to always reflect the civilization and development of the UAE.
My sincere wishes of success and I ask Allah to bless our efforts to serve our great nation.